Your weekly digest of news in the world of Design, Upholstery, Furniture and Interior Design, brought to you by Global Upholstery Solutions.
In 2012, IDEO founder and longtime Stanford professor David Kelley took the TED stage in Long Beach and shared a deeply personal story. It was the tale of his own cancer diagnosis, of finding a lump in his neck and being told he had a 40% chance of survival. This was clearly a sobering moment, but he wasn't sharing the story to seek our sympathy. Rather, he wanted to talk about his resulting epiphany. "While you're waiting for your turn to get the gamma rays, you think of a lot of things," he said drily. "I thought a lot about: 'What was I put on earth to do? What was my calling? What should I do?'"
VDF teams up with Ron Arad for the video launch of a new series of sculptural chairs – including one that commemorates Brexit – followed by a live interview with the designer at 2:00pm UK time.
The London-based designer and architect created the movie for VDF to explain how he developed the chairs, which were originally supposed to be exhibited at the OTI Gallery in Los Angeles. However, the show was cancelled due to the coronavirus pandemic.
New chairs are based on Arad's classic Big Easy
Eco Fabrics and Sustainability in the Upholstery Industry
It's plain to see that we are in a growing world and industry where sustainability, recycling and repurposing is at the forefront of projects and is becoming more and more an important credential or specification. With this being the case, the information gathered below will enable us to assist those customers who are required to include such accredited fabrics to their portfolio.
Alex Meitlis Design was tasked to design the offices for Ybox, an entrepreneurial and construction company, located in Tel Aviv, Israel.
The concept was to build a gold box in the open-plan office that created the interest in the large open space without competing with the view.
The box is facing the "living room" an open space with various seating and an active bar serving as the center of the office.
From the living area you can see the developing skyline of Tel Aviv and this view is perfect for a construction company.
We decided to use only natural materials that come from the construction world – concrete, wood, glass and metal (brass).
While it is difficult to predict the future, it seems probable that food delivery will become a more permanent feature in many hospitality businesses. The demand for food delivery has increased and it seems likely that once the government-imposed lockdown is over, many customers will continue to remain apprehensive about visiting pubs and restaurants. This apprehension may well continue until an effective vaccine or treatment for Covid-19 is developed.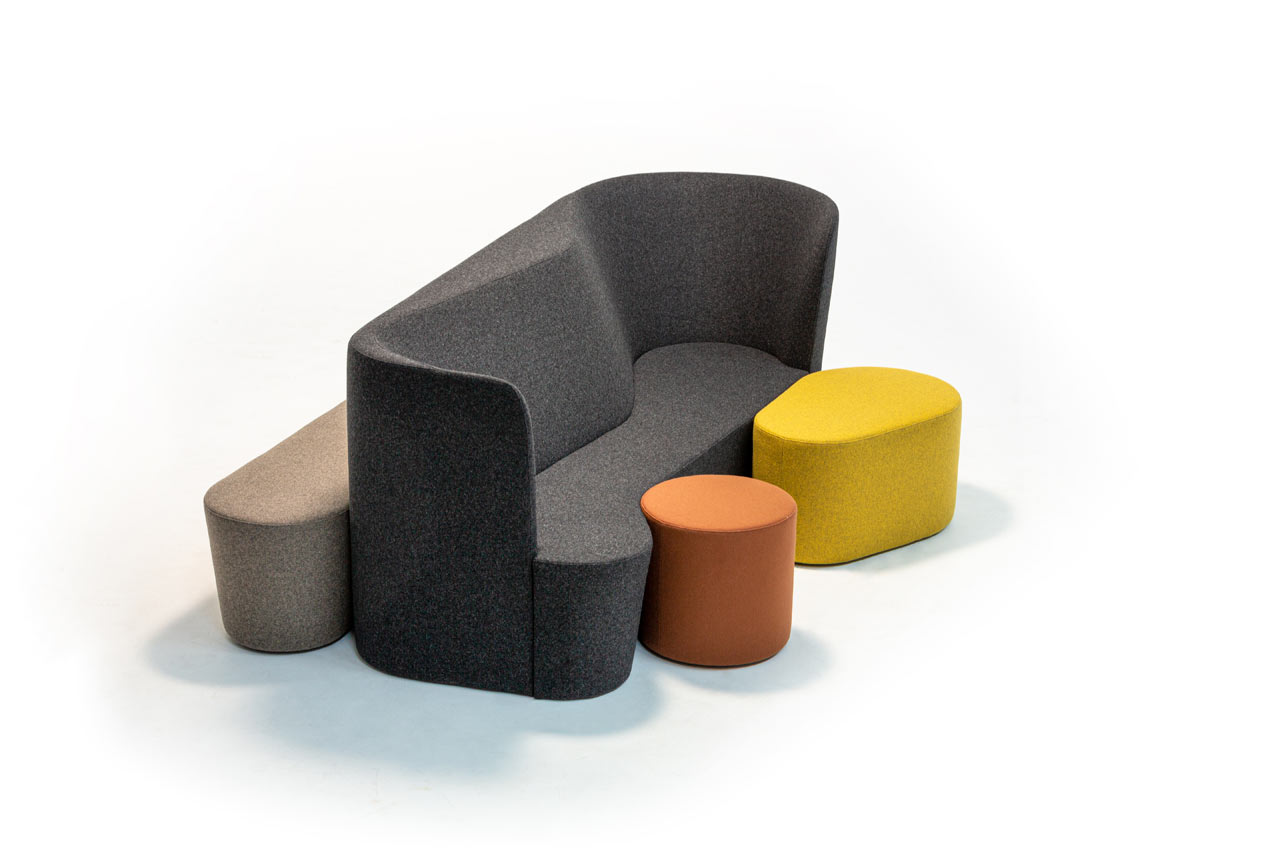 With every design fair and event shelved for the foreseeable future, Italian furnishings brand Moroso just released a new collaboration with Swiss-Argentinian designer Alfredo Häberli – the Taba collection – online. Häberli created the collection of multifunctional seating for public and private spaces as destinations to live, sit, talk, and work. Taba includes eight pieces – a sofa, two armchairs, a bench, and four ottomans – featuring soft curves and overlapping organic lines that embrace comfort and conversation. Each sculptural piece can stand alone but configured together they play off each others meandering curves.
With lockdown measures extended and social distancing continuing to impact industries world-wide, we're sharing more industry perspectives from across the interior design profession. SBID Accredited designers and manufacturers provide their personal insights into how they are dealing with daily life and work in lockdown during the coronavirus pandemic.
The easiest way to get a contribution, advice or feedback is to present something that's 90% done.
If you ask too early in the process, if you're hoping for conceptual insights, you'll probably be disappointed.
The 'desert decor' trend has been an undercurrent in interiors for the past few years but has really come to the fore for Spring Summer 2020, so there are plenty of accessories out there just now that can help you achieve the look. The basis for the trend has to be the current obsession with houseplants – in particular cacti – which is certainly one of the quickest and easiest places to start, but I'd also recommend embracing the soft arid tones of the desert (think sun-scorched hues such as warm terracotta, creamy saffron and burnt adobe red), woven rattan textures, handcrafted wicker-style baskets, and chunky handmade pottery and ceramics.
Benjamin Moore releases their 2020 Colour of the Year palette containing ten harmonious hues. The unique group of ten versatile shades, including First Light, ranges from the dark and mysterious, to soft and playful. The palette seamlessly delivers modern paint colour pairings that combine optimism with understatement, a timeless way to lighten up a home and embrace a modern look. For more 2020 paint trends
First a student then a teacher at the Bauhaus, Marcel Breuer designed many innovative pieces. His Wassily chair is the most iconic.
Hungarian-American architect Marcel Breuer was known for his innovative furniture design and use of tubular steel. Though he created many pieces of furniture in his time, the Wassily chair is his most iconic piece.
The chair was designed in 1925, inspired by a bicycle frame. It is made of curving tubes of steel and leather slings that create a seat that is ergonomic and comfortable, yet still highly sculptural and minimal in form.
In mid-March, congress passed the CARES Act, which set aside funds to give approximately 140 million Americans up to $1200 per adult in a household plus an additional $500 per child under seventeen years old, to help stimulate the economy during the coronavirus pandemic.
If you aren't using your check to stay afloat, purchasing new furniture is a great way to use it. Even when social distancing mandates are lifted, most of us are still going to be spending a lot more time at home for the foreseeable future. So what better way to stimulate the economy than to improve your living space?